Drukpa Australia is pleased to organise two sets of NyungNe (Fasting and Prostration retreat) at our Centre (11 Knight Ave, Yokine WA 6060), which will be presided by our Lama Nawang Gurmay. The two sets will be held as follows:
Set 1 : June 03 (Wednesday, 5:00 pm) – June 06 (Saturday, 7:30 am)
No of participants: Maximum 18 people excluding Lama & our Teaching Coordinator
Set 2 : June 19 (Friday, 5:00 pm)- June 22 (Monday, 7:30 am)
No of participants: Maximum 45 people
We cordially invite all interested devotees to participate in this annual NyungNe retreat. For those, who are new to this retreat, please refer to this wonderful book by Wangchen Rinpoche. NyungNe, in brief, is a profound fasting retreat based on one-thousand arm Chenrezig (Avalokiteshvara) revealed by an Indian female practitioner called Bishuni Palmo. It is a wonderful retreat with a length of time highly relevant to people like us who are not able to take up long-term retreats.
Please click here to register for the two sets of NyungNe retreats. Detailed programmes are provided below: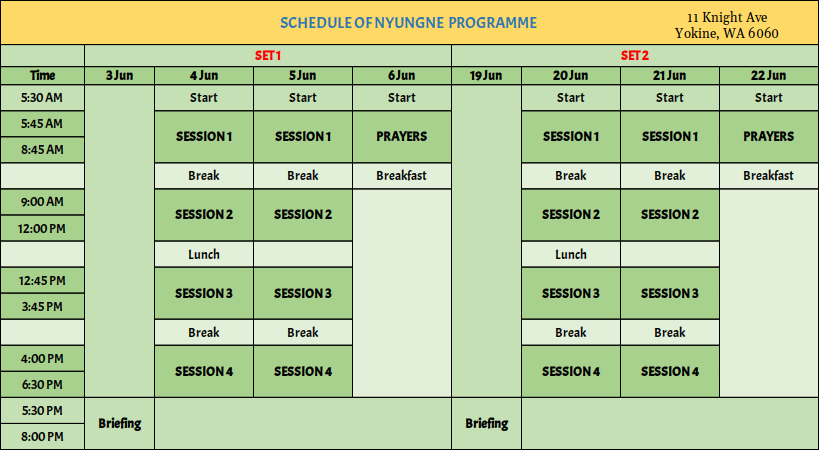 Call for Sponsors and Volunteers
While we understand that this is a very difficult time for all of us, we also wish to give opportunities for those who are willing and able to contribute to the expenses, including breakfast, lunch, Tshog, and Changep. If you wish to contribute, please contact our Finance Coordinator Chhimi Wangchuk at 0456412131 or Khandu at 0411862513.
Historical Origins of NyungNe
The practice of NyungNe dates back to a great female Siddha from India in the tenth or eleventh century. Gelongma Palmo was born as a princess in the land of Orgyen, the birthplace of Padmasambhava. She is said to have renounced everything and become a nun. After becoming a nun, however, she developed leprosy and was thrown into the wilderness by the monastic community. Without letting herself fall into resentment, Gelongma Palmo then took up a silent and fasting ritual, meditating without food or drinks for several months and by wholly focussing on the practice of thousand-armed Avalokitesvara (Chenrezig). Through this, she is said to have seen the face of Avalokitesvara himself, and therefore attained the highest realization. Her body also healed and became more beautiful than ever.
Today, this fasting practice/retreat is being widely practiced around the world to accumulate merit and develop compassion through visualization of Avalokitesvara (Buddha of Compassion), along with a ritual of renunciation, prostrations, and recitation.
Benefits of NyungNe
Benefits to the Participants: NyungNe is said to heal chronic illnesses, nurture compassion, and purification of negative karma. Completing one set of NyungNe (two days) is said to be equivalent to three months of other purification practices and practicing eight sets of NyungNe has the merit of being born in the pure land of Amitabha Buddha. A complete twenty-five set is said to have the merit to purify our negative deeds of eighty thousand aeons and practicing 108 sets is equivalent to achieving Arhathood and will be born in the pure land of Buddha Amitayus (Long Life Buddha). Even one set of NyungNe will avoid oneself being born in lower realms and be born in the human realm.
Benefits to the Sponsors: It is being understood that Avalokitesvara himself said that sponsors of NyungNe will also accumulate the same merit as the practitioners. Even a cup of water served after the NyungNe is said to merit equal to that of serving a bodhisattva dwelling on the eighth ground. They will not be reborn in lower realms of existence, will have inexhaustible treasures of wealth in all lifetimes, and will equally be gifted with far reaching attitude of generosity.
"Through meditation, difficult thoughts and emotions may well rise up. And through practice, you can meet such emotions with kindness, listen to them, explore them, and then really let them go."
From The Restful Mind by Gyalwa Dokhampa