Due to the current Covid-19 pandemic, hundreds and thousands of people have lost their lives; millions are still fighting for their lives in hospitals, and a million others have lost their jobs and homes. Assuredly, it has adversely impacted the wellbeing and happiness of the people across the globe.
In order to end this unceasing and prevailing fears, sufferings, and deaths; and to bring swift discovery of Covid-19 vaccine, His Holiness the Je Khenpo of Bhutan has issued directives to all the Dratsangs, religious institutions, spiritual groups and individuals to collectively recite a billion Avalokiteshvara mantra for the benefit of all the affected ones and to eliminate our negative Karma.
Accordingly, being conscious of the pains and sufferings that we are currently going through, Gyalwa Dokhampa Rinpoche aspires for Drukpa Australia to lead and facilitate recitation of 10 million Avalokiteshvara mantra with an aim to reach the target by November 7, which falls on the Descending Day of Lord Buddha.
Therefore, Drukpa Australia requests/ invites all practitioners, devotees and friends to join us on this spiritual journey, starting today. Individuals may record a daily count of their recitations and at the close of each week – on every Sunday – submit it to the teaching coordinators through a msg either on Wechat (preferably) or Facebook. A weekly update of the total achieved will be posted on the following day.
Let's stand in solidarity and regardless of where we are, pray in oneness to create collective positive karma for the benefit of all sentient beings.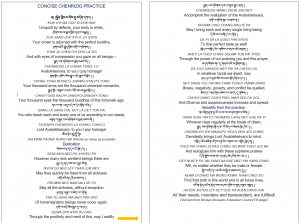 Avaloketeshvara Prayer written by 70th Jekhenpo, Bhutan
Abridged version of Avaloketeshvara written by Gyalwang Drukpa